A PLACE TO FOSTER INSPIRATION, GATHERING AND CREATION
THE EXCHANGE IS FOR THE AMBITIOUS AND INNOVATIVE. A PLACE FOR MAKERS AND CREATIVES TO GROW WITH THEIR DYNAMIC SOUTHERN CALIFORNIA COMMUNITY.
---
NOW LEASING
EVENT SPACE + MAKER SPACE IN LOS ANGELES, CA
(RE)PURPOSE

A MODEL FOR PURPOSEFUL DEVELOPMENT.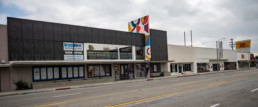 A former JC Penney building in the heart of access to Los Angeles, Orange County and Long Beach, this 40,000 SF building originally built in 1952 is the future home to creatives from all over Southern California, across all facets, from construction to coworking to retail.
THE BUILDING

A BUILDING WITH A HISTORY LIVES ON.
WELL PLATINUM BUILDING STANDARD®
An environment where a selective collection of businesses will create and collaborate with like-minded makers. Talent is forever at the forefront, coupled with driving business growth, reach and revenues.
EVENT SPACE + MAKER SPACE IN LOS ANGELES, CA
FLOOR 1 + OPEN-AIR MEZZANINE
NOW WELCOMING:
BREAD BAKER
COFFEE ROASTER
CRAFT FOOD MAKER
ICE CREAM MAKER
TORTILLA MAKER
PASTRY CHEF
DISTILLERY
BUTCHER
CHEESE MONGER
KOMBUCHARIA
ARTISAN EATS
JUICERY
COMMERCIAL KITCHEN
HANDCRAFTED GOODS
+ MORE
VIEW FLOOR PLAN
LEASE THE SPACE
HOST AN EVENT
FLOOR 2 IRONFIRE WORKSPACES
Ironfire Workspaces offers flexible work, meeting and event spaces on demand for a vibrant community of entrepreneurs, small business owners and remote workers. Ironfire Workspaces enables people to work for themselves without working by themselves.
Private offices, dedicated desks, coworking seats, meeting rooms and event space accommodate 100+ workers
Floor-to-ceiling windows overlook first floor maker space
24/7 access memberships
Daypasses & monthly memberships available
Mix of returning monthly members & new visitors daily
MORE ABOUT IRONFIRE WORKSPACES
Howard CDM is a commercial general contractor and developer based in Bellflower, CA. Established in 1972, Howard CDM has created a tangible legacy by focusing on the needs of its clients, fostering relationships and successfully bringing project plans to fruition. Comprised of 50+ construction and real estate professionals, Howard CDM serves the most sought-after clients in Southern California and nationwide, including SteelCraft, Bavel, Otium, Porto's Bakery & Café, Tartine Bakery, Verve Coffee Roasters, Orange County School of the Arts, ArcLight Cinemas, Daylight Community Development and more. With a heart for hospitality and restoring beauty in overlooked places, Howard CDM imagines, creates and builds projects that re-envision existing areas into vibrant community spaces for uses such as education, dining and the arts.
DISCOVER THE DEVELOPER HOWARD CDM
LEARN MORE
LOCATED IN THE HEART OF ACCESS




BELLFLOWER
17434 BELLFLOWER BOULEVARD
BELLFLOWER, CALIFORNIA 90706
Centrally located between densely populated Los Angeles and Orange County.

Adjacent real estate investments show a thriving and growing neighborhood.

Easily accessible off major freeways: 91 and 605.

Within 5 miles, there are 212,135 households with an average household income of over $88,386.

There are over a quarter million employees within a 5-mile radius.

Average spend on food outside the home exceeds $4,175/year for those within 5 miles.
TRADE AREA
In N Out… 500 ft
Chris & Pitts BBQ Restaurant… 500 ft
Toko Rame Indonesian… 0.23 mi
Jazz Melody Thai BBQ… 0.25 mi
Los Compadres Mexican Restaurant… 0.40 mi
Fronk's – Burgers – Barbeque – Whisky Bar… 0.46 mi
The Nest: Tambien… 0.47 mi
French Quarter Creole Bar & Grill… 0.60 mi
Natural Intentions Wellness Juice Bar… 0.60 mi
Kikyo Sushi… 0.64 mi
Subway… 0.68 mi
Ricci's Italian Restaurant… 0.69 mi
Kalaveras Mexican Restaurant… 0.71 mi
SteelCraft Bellflower… 0.73 mi
Omega Burgers… 0.87 mi
The Mayne Events Center…0.8 miles
Belle Fleur Center…0.3 miles
Bellflower Park…0.8 miles(Mixed-use residential, retail, Laemmle Theatres)
COMMUNITY
An open and inviting environment for locals to spend time together and support local vendors.
CREATIVITY
A workspace that caters to the creative process across a variety of different industries.
COMMERCE
A place where small yet exceptionally critical businesses can produce, sell and thoughtfully distribute their goods.